Press Release : The Arab Network for Scientific Journalism; A Link Between Arab Journalists and Arab Researchers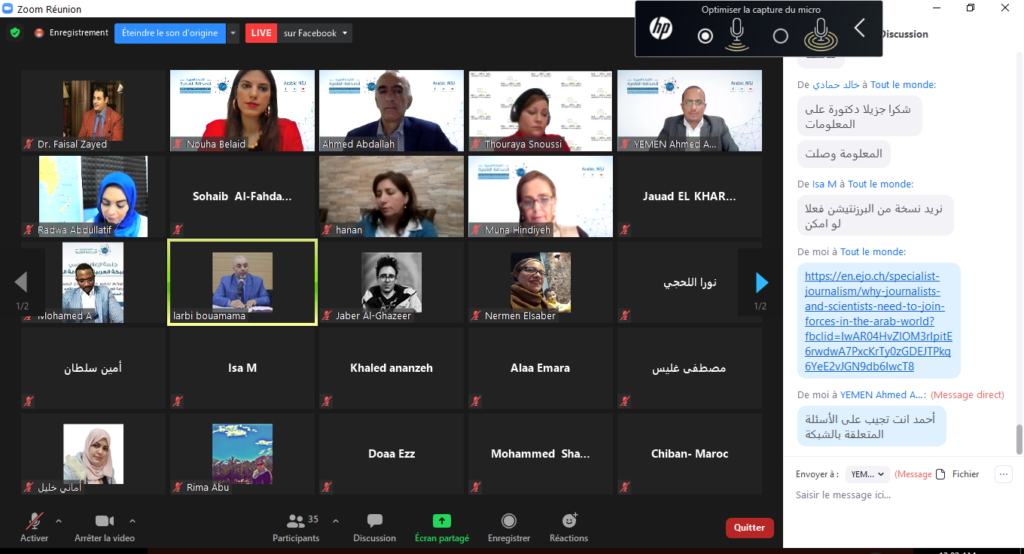 In light of the accelerating scientific and technological progress, and in amidst the challenges facing the world such as the outbreak of the Coronavirus (Covid-19), and the negatives and positives of the environmental and climatic phenomena accompanying this progress, the establishment of the « Arab Network for Scientific Journalism » was declared today through a virtual session via Zoom application. As a professional Arab, and regional, independent, non-governmental and non-profit organization, its goal is to promote Arab scientific media to bring about a comprehensive renaissance and development, and to create Arab awareness capable of participating in and keeping pace with scientific and technological progress. This network is of Arab origin, based in the Republic of Yemen, headed by Ahmed Radman Al-Shamiri, and its executive office consists of a group of Arab expertise in the field of media, including Dr. Nouha Belaid (Tunisia), Dr. Radhwa Abdel-Latif (Egypt), Dr. Hanan Kaswani (Jordan), Ms. Samia Ayash (Palestine) and Mr. Muhammed Sharif (Mauritania).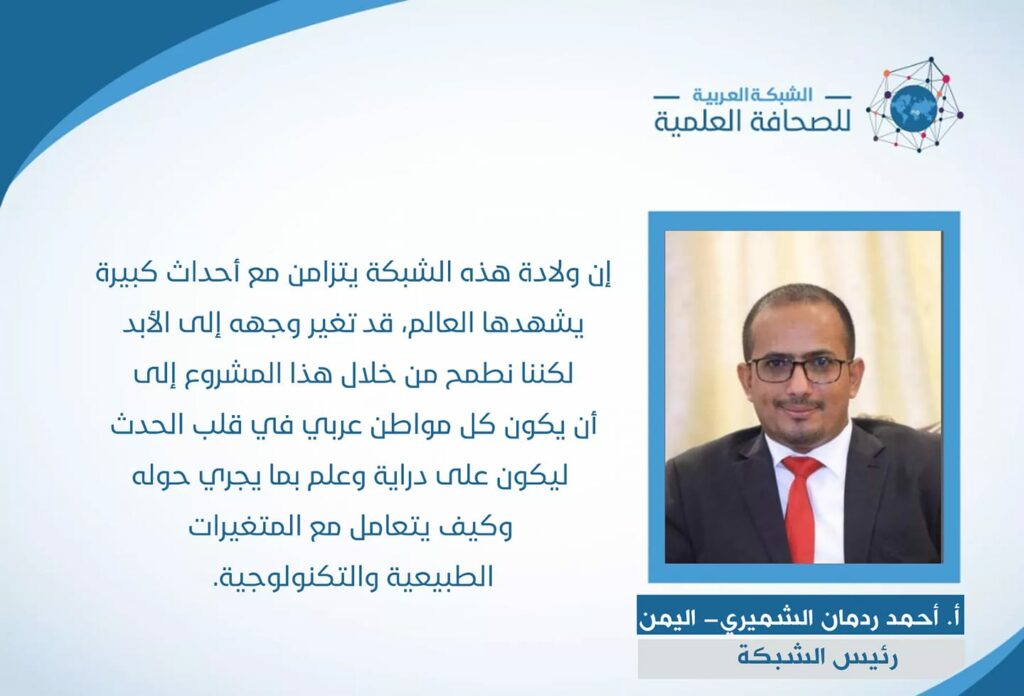 This specialized network will strive to link journalists, media professionals, academics, and researchers with their various specializations (medicine, environment, anthropology, hydrology, technology, chemistry, etc.). This is why the network placed at the disposal of Arab journalists a scientific advisory council consisting of the best Arab researchers, including Dr. Ibrahim Gargouri, Dr. Wassim Chaabane, Dr Jauad El Kharraz, Dr. Mubarak Boutakouka, Dr. Mohammad Al-Mansoub, Prof. Abdullah M. Alamri, Dr. Faisal Zayed, Dr. Sherine El-Baradei, Dr. Mona Hindia, Dr Jauad El Kharraz., Dr. Houssein El Hassan, .. and others.
This network aims to upgrade the skills of Arab journalists interested in science, and consolidate links between universities, research centers, media, and journalists, and create a harmonious environment for cooperation between scientists, researchers, and journalists to harness science, knowledge, and technology to serve Arab development, in addition to simplifying science and knowledge for Arab citizens through journalism and media, and translating scientific language into an easy and concise language that enables the ordinary reader to understand and benefit from it..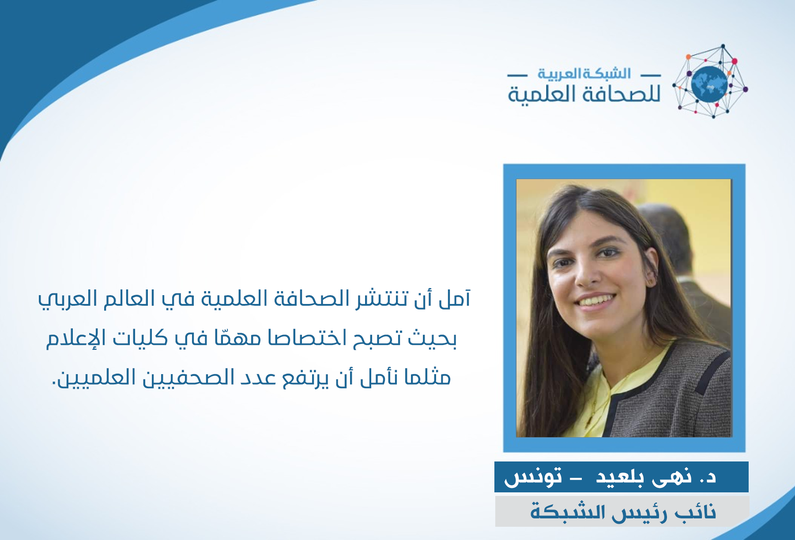 The network will also raise awareness among the Arab citizen of the risks and negative and positive impacts resulting from epidemics and climate changes, as well as proper handling of the accelerated scientific and technological development.
It is worth noting that the idea of the network arose as a result of a training course on scientific journalism for a group of Arab journalists, presented by Dr. Nuha Belaid (university professor and journalist). What makes this initiative a response to an Arab need in the Arab press arena today for a platform that brings together scientific journalists.